What is eCommerce Marketing? Definition and Types
eCommerce marketing is the act of driving awareness and action toward a business that sells its product or service electronically.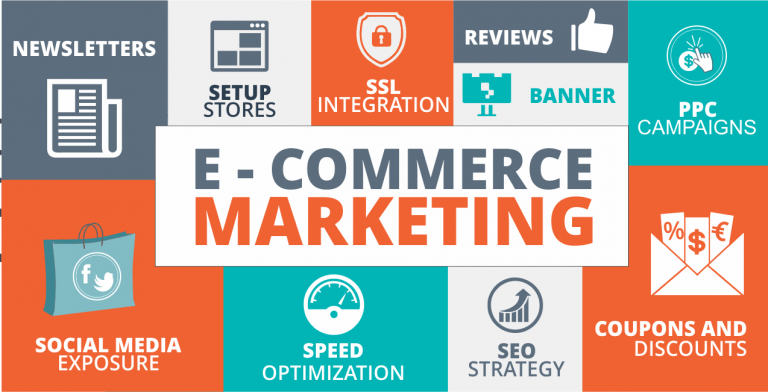 Ecommerce marketing is the act of driving awareness and action toward a business that sells its product or service electronically. Ecommerce marketers can use social media, digital content, search engines, and email campaigns to attract visitors and facilitate purchases online.
What is Ecommerce Marketing?
The term E-commerce is used to refer to the online shopping of products and services. Ecommerce marketing promotes your online store to future customers through various numbers of marketing channels. Ecommerce marketing has only one goal, i.e. people who are interested in your products visit your store and buy those products from you.
In simple language, when you break it down, it looks like:
Move traffic to your online store

Transform traffic into the lead

Transform lead into the sales
Let us see one example, a user subscribing to a premium of Amazon prime or a company working with a freelancer through the platform of freelancer or Upwork. Both can be referred to as e-commerce.
Before we move to the detail of e-commerce marketing, let us review e-commerce advertising for an e-commerce business.
What is Ecommerce Advertising?
Ecommerce advertising is used for placing paid content on online and offline businesses. The online business includes a social media network, website, newsletter, search engine, or another online platform like a chatbot.
The offline business includes a traditional form of advertising such as radio commercials, door-to-door marketing, TV spots, direct mail campaigns and more.
As a marketer, you should always test and experiment with the advertising strategy for your business. It doesn't need to work well for an e-commerce business. So it's still important to test and measure your return on investment (ROI) on each channel, online or offline.
Now, let us get some in-depth discussion about e-commerce marketing.
Types of Ecommerce Marketing
For your in-depth knowledge of e-commerce marketing here, some common marketing channels are added and how you can use them to build an online store.
1. Social Media Marketing
Social media marketing is useful to connect with your audience. Social media platforms build your brand, increase sales and drive website traffic. It doesn't involve only image sharing, but it also includes content, listening and engaging your followers, also analyzing your results and social media advertisements.
At present, the major social media platforms are Facebook, Instagram, Twitter, LinkedIn and YouTube.
The concept of social media marketing started with publishing as people came across that they understood that it is not the platform for only publishing and sharing. Still, it is far beyond being a place to broadcast content.
2. Content Marketing
In the digital world, the king of marketing is 'Content'. Content is not only about blogging and video marketing. It has meant to improve your website ranking and answer the questions related to your industry.
The leading brands use content marketing. According to the research of CMI – Content Marketing Institute, most marketers are using content marketing. Not only brands but small businesses are also involved in the content market. Why? Because it works and gives a result.
Here are the key points to use the content for your business:
The product page should be accurate

Blog post related to your industry

Ghostwriting

Guest post for external websites

YouTube videos related to the product

FAQ section should be there on your website
Some companies are not using the above key points. They are not aware of real marketing. That's the reason they are not progressing in their business.
3. Search Engine Marketing
Search Engine Marketing is paid marketing. It is a digital marketing strategy used to increase the website's traffic in search engine result pages.
Search engine marketing is also known as paid search or pay per click, i.e. (PPC).
SEM includes both paid and search engine optimization (SEO). SEO entirely depends on the knowledge of the Google algorithm. SEM is Pay Per Click (PPC) campaigns, specific product campaigns that allow the business to pay at the search engine's top spot.
PPC campaigns guarantee to get a potential buyer. These are the reasons e-commerce marketers register with Google Ad words.
4. Email Marketing
Email marketing is the oldest form of marketing. But the same holds value in the world of e-commerce marketing. Email marketing is useful; it converts a prospect into the customers.
Email marketing should be the priority for any business. Because #1 Email is the communication channel #2 You have your list nobody can take those leads from you #3 Email marketing gives you a 100% ROI (Return on Investment).
Email Marketing is a simple and achievable way to make sales online.
5. Influencer Marketing
The term Influencer indicates an Instagram account, with N number of followers. Still, at the same time, it also means a concept of community that your target audience follows or either belongs to. It focuses on people or brands that influence the target market.
Influencers always build trust in the communities of people. So it is easy for them to gain attention for your product through a recommendation or a sponsorship post.
6. Affiliate Marketing
Affiliate marketing is done by an individual or a company to sell your product online for a commission. When someone buys through your shared affiliate link, you get a commission.
Affiliates are also known as salespeople. In the technology world, you have to help the company through online selling. The benefit of affiliate marketing is that you can promote the products of different companies and earn a commission from them.
7. Referral Marketing
The word referral itself gives you a clear understanding that when a customer refers your product to their family & friends, referral marketing. This happens naturally if they like your product if you want then you can ensure that it frequently occurs through a referral program.
Wrapping up:
Ecommerce, marketing seems complicated. But the key to successful marketing is the execution of the marketing strategies you stick on. Precisely using e-commerce marketing will lead you to success and can grow better.